KC SALON SUITES
Introducing the Luxurious KC Salon Suites - Utah's Exclusive Destination for Salon Professionals!
Are you ready to elevate your career and take your salon services to the next level? Look no further than the brand-new KC Salon Suites, nestled in the heart of beautiful Draper City. Our exceptional salon suites offer a haven of luxury and convenience for ambitious beauty professionals like you.
Why choose KC Salon Suites?
Why choose KC Salon Suites? With a focus on upscale and contemporary design, our suites create an atmosphere that captivates both clients and stylists alike. Imagine yourself surrounded by modern amenities and state-of-the-art equipment, ensuring an unparalleled experience for your valued clientele.
Offering a wide range of suite options, we cater to all salon professionals. Our suites are fully customizable, allowing you to transform your space into a personal oasis that represents your unique style and brand.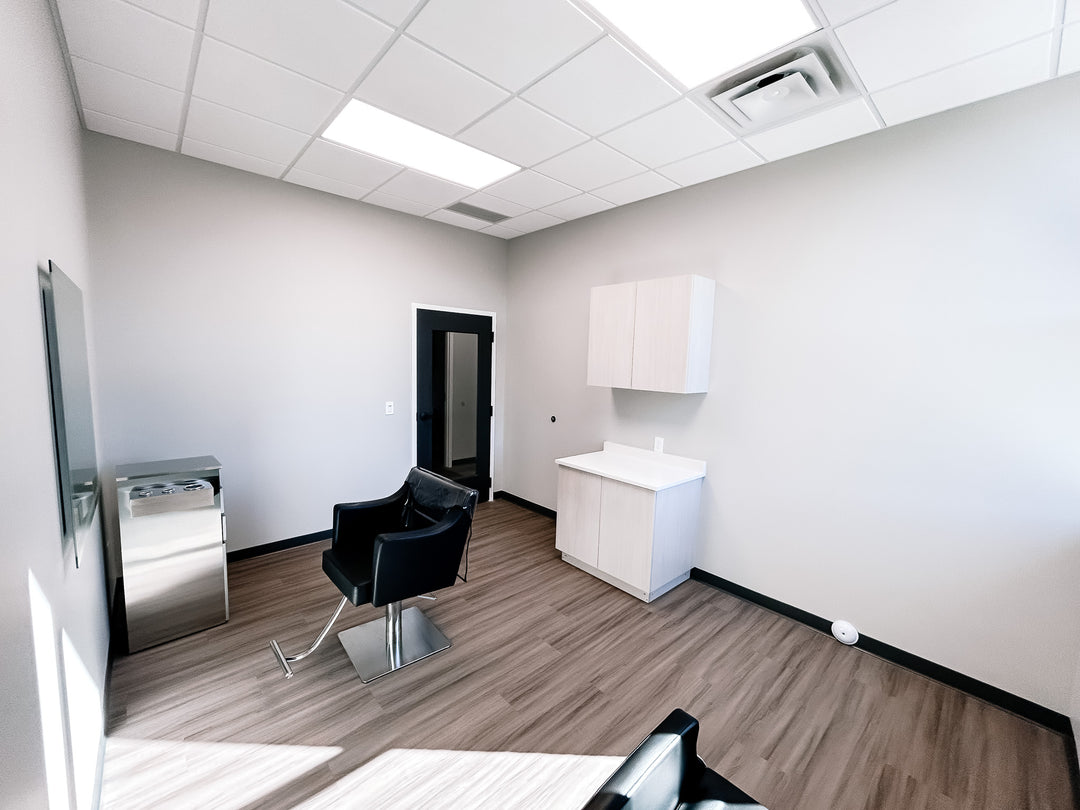 What is included?
When you join our exclusive community of salon professionals, you are opening doors to endless possibilities. Here's what you can expect:

1. Prime Location: Situated in the heart of Draper, our salon suites are conveniently accessible with plenty of parking.

2. Modern Amenities: We have spared no expense in providing top-of-the-line, cutting-edge equipment to make your work seamless and efficient. From advanced salon chairs, deluxe sinks, central vac, reliable 5G WI-FI, and a washer and dryer we have taken care of all your professional needs.

3. Freedom and Flexibility: Personalize your space to reflect your unique style and aesthetic preferences. Express your creativity by customizing your suite and foster an atmosphere that sets the stage for inspiring transformations.

4. Supportive Community: Join a supportive network of like-minded professionals who thrive on collaboration and mutual growth. Exchange ideas, learn from others, and build lasting relationships that will take your business to the next level.

5. Affordable Pricing: We understand the importance of financial success, which is why our rental rates are tailored to ensure you get the best return on your investment. Take advantage of this limited-time opportunity to secure your space at an unbeatable price.
Perks Of KC Suites
The Benefits
Salon suites are becoming an increasingly popular option for hair stylists and other beauty professionals. These private suites offer a range of benefits that traditional salon spaces may not. Here are some perks of salon suites:
Personalized Space: When you rent a salon suite, you have your own private space to decorate and personalize. This allows you to create the perfect environment for your clients and showcase your unique style. You can choose the color scheme, lighting, and decor that best reflects your brand and personality.
Increased Privacy: Salon suites offer a more private experience for clients. They don't have to worry about noisy crowds or other distractions that can be common in traditional salons. This can be especially appealing for clients who are looking for a more relaxing, spa-like experience.
Flexibility: Salon suites allow beauty professionals to have more control over their schedules. They can set their own hours and work at times that are convenient for them and their clients. This can be especially helpful for those who have families or other commitments that require flexibility.
Cost Savings: Depending on the location, renting a salon suite may be a more cost-effective option than leasing a traditional salon space. Additionally, many salon suites come fully equipped with the necessary furniture and equipment, which can save beauty professionals money on start-up costs.
Overall, salon suites offer a range of benefits for beauty professionals. They provide a more personalized and private experience for clients, while also offering flexibility and cost savings for the beauty professional.
Amazing Location
Located in the vibrant and thriving city of Draper, KC Salon Suites offers the perfect setting for your business to flourish.
Don't miss out on this exclusive opportunity to be among the first to secure your dream suite in our remarkable facility. Spaces are limited, and demand is soaring. Take charge of your career and join the elite beauty professionals who will call KC Salon Suites their new home.
Draper is now home to a brand new salon suites location that is sure to impress. These suites are designed with both beauty professionals and clients in mind, providing a luxurious and comfortable space for all. Each suite is fully equipped with modern amenities and ample storage space, ensuring that every visit is a pleasant and memorable experience. With ample parking and easy access, clients can relax and enjoy their appointment without any added stress. The suites themselves are spacious and private, allowing beauty professionals to customize their space to fit their unique style and brand.
The new KC salon suites are the perfect place to grow your business and provide top-notch services to clients. Schedule a tour today to see for yourself why Draper's newest salon suites are the talk of the town.